Around Square Promotions - Newsletter Week Ending Sun 10th July 2005 - by xc0n (Paul Eagle)
Hello Again!
Just wanted to take the oppertunity again to advertise the weekend of music ahead @ KATZ. For all of you who do not know, KATZ is situated in QUEEN STREET BACK STREET, NEATH. Follow the one way system into neath up as far as the TRAIN STATION, as you pass the TRAIN STATION on your left, you will see a right turn into a lane starting by the TAXI RANK. Follow that lane until the end where you will find KATZ situated on the left hand side.
Directions to Katz Here (Click Me)
Saturday 9th July 2005
There is a Rock Night being held with Headliners "Making Bullets Bleed", come down and take a look at one of the most energetic and entertaining bands making waves in the Neath Port Talbot Community. Alongside them will be "Last Minute Tradgedy" and crowd favourites "Ink Bath" and "8 Minute Delay". Come down to what will surley be a great night for screamo's and metal heads alike.
Sunday 10th July 2005 - Battle of the Bands Winners Party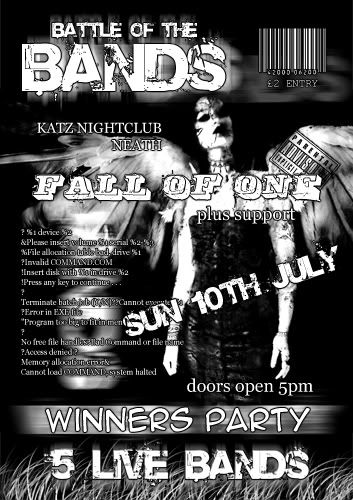 Sunday night will be an Alternative Rock Night which will consist of bands that have dared to stray from the more traditional current trends in order to provide you with an Entertaining, Melodically Vocalled... !HARD F*$KING ROCK NIGHT!
Headlining this weekend and hosts of the party will be recent Battle of the Bands winners, "Fall of One" who will surley be on a high from their recent win. These guys are a cracking set of lads from Merthyr who provide a hard rocking sound consisting of sweet guitar solo's, harmonies and not forgetting the outstanding stage prescence and performance's of their frontman. You have gotta see this guy!!!
Support will be provided by:
The Dirty Half Hundred - Official Website
A Newport based band who's experimentation with music instantly won me over as a fan of their music. I mean, check out "What is Music to you?" and "A Minor Defect" these are two class songs in my opinion and these are a talented group of musicians, original and eccentric, Frank Zappa would be very proud.
Corona Jones - Official Website
These are a bunch of guys from Cardiff that I have recently spoken to. I again admire them for their wanting to break away from the scene and create an independant sound. I was instatnly drawn by the lead singers amazing voice, it reminded me ever so slightly of Eddie Vedder from Pearl Jam at times but it definaltley is a warm, melodic and unique sounding voice. Accompanied with excellent tunes provided in a hard rocking nature by these talented musicians, you'll surely enjoy the show. But can they cut it live???
Also supporting will be a mixture of some hard rocking original and cover bands "Contageous" and "Cherry Wood" alongide a mellow entrance into the night by local accoustic and harmonica playing "Cortez" who will provide you with an easy transfusion into the "Hard Rock Heaven".
Entry will be £2 which I personally believe is more than reasonable for the show and doors will be open at 5pm.
Hope to see you there, all the best!
| xc0n >_> |